Fun Valentine's Gifts ( or for Any Event) for the Girl ! #PeaceLoveWorld #BeautyHabit
It's that time of year! Men are not fans of Valentine's Day for lots of reason. Some call it a faux holiday; others go with the flow but find gift-giving so close to closing out Christmas holidays is just too much work too soon! Take heart (You did get that pun right?) I am here to help. Shopping is my specialty and I have recruited LOTS of friends and lots of brands to give you a helping hand for V-day gifts!
Peace Love World: PeaceLoveWorld.com
This Valentine's Day, say I love you with… sweats. For the perfect Valentine's Day gift, Love is literally their middle name: Peace Love World. To get the look loved by and seen on celebrities like Kourtney Kardashian, Mila Kunis, Oprah Winfrey, Jennifer Lopez and more, Peace Love World's 2016 Valentine's Day collection is the perfect fit.
The women's collection includes pants, hoodies, tanks, tees and the brand's best-selling pullover "Comfy" top, from $88 to $158.
For your littlest Valentines, a corresponding kids comfy and crew neck tee are $62 and $30.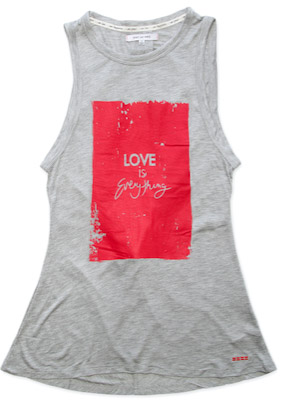 Score some major deals for yourself or for someone special at Beautyhabit.com!
You'll be seriously crushing on the Beautyhabit Winter Clearance Sale!
BeautyHabit's Special Offers…
– Child Perfume Roll-on: with your $250 site-wide purchase you'll receive a complimentary 0.33 oz. Child Perfume Roll On – a $68 value! Apply code: "CRUSH"* —http://www.beautyhabit.com/childperfume.html#338
– Les Parfums De Rosine: with your $100 or more Les Parfums de Rosine purchase, you will receive a complimentary 1 oz. perfumed cream and gift box! Apply code: "ROSINE"*–
Apply code: "ROSINE"*–http://www.beautyhabit.com/parfumsrosine_fragrances.html#963
BeautyHabit's Featured Products…
– New Eco-Chic Floral Bag from BAGGU— http://www.beautyhabit.com/baggu.html#19492
– Romeo + Juliet teeny glass bottles from Bkr –http://www.beautyhabit.com/bkr.html
– Olivine Atelier "You are beautiful" pencil set–http://www.beautyhabit.com/olivineatelier.html#17751
– Pure Soy Scented Candles from Farmacie— http://www.beautyhabit.com/farmacie.html
Want more to love?
Check out the new items just added to our outlet at http://www.beautyhabit.com/beautyhabit_clearance.html
Read the email newsletter with the full offer details here: http://bit.ly/1UxMa2D
*Order minimums are pre-tax and shipping with only one code per order – offers expire Feb 14, 2016 or while supplies last.
Stevie Wilson,
LA-Story.com
DEALS and STEALS
I am required to tell you that I am an "affiliate" with these brands. I curate deals that offer bonuses, bargains and great products –and some are very specifically for this site to feature to YOU!
The amount I make has yet to be determined that despite people going to visit the links (and it's in the thousands every month), I have yet to have anyone buy anything from them.

FREE 2-day shipping on all your orders. No minimum purchase required. Enroll now.

Receive a free Fall Fragrance Sample Bag with any $25 purchase. While supplies last, use code: FALLFAVES
Subscribe to RSS headline updates from:
Powered by FeedBurner
If you are going to feature content from LA-Story.com including images, podcasts or videos including the accompanying text, please respect copyright provisions. We require a notation of content origination (meaning credit tag), a linkback to the specific page & please email the link to stevie@la-story.com before the piece goes live.
LA-Story.com, LA-Story Recessionista, Celebrity Stylescope, Celebrity Style Slam Trademark/Cop