It's almost Valentine's Day and there so much on people's "to-do" lists and agendas that they don't often take this holiday as the marker that it is. No matter if you are man or woman, young or old, where you are in the relationship spectrum, the holiday evokes some anxiety and/or pressure. It's not the easiest holiday to deal with. It's often hardest on those who don't have a significant other or even a date to hang out with. It's a day full of pitfalls and particularly if you are dealing with online dating. Online dating seems to be full of pitfalls for both men and women. I am not talking about dating platforms but about the experiences that people have- or don't have – in the context of trying to find someone to do things with (and not even thinking about the finding "Mr or Ms Right"). Navigating online dating platforms can be tricky and even treacherous. Who do you turn to learn the ropes?
Freelance writer (and LA-Story contributor) Naomi Shaw has returned to share some of her research on using online dating apps
safely. It's a very useful and helpful piece that is something that you can share with friends!
Online Dating Safety Tips for Valentine's Day!

By Rawpixel.com
Online dating has quickly gone from a taboo practice to the main way we find love and relationships. With Valentine's Day approaching many are relying on Cupid's arrow to poke a love match in the cyber world.
While online dating presents a great opportunity to find the man or woman of your dreams, there is also a chance to be scammed, taken advantage of or harmed in some way. For an unfortunate few online dating has resulted in murder; a single mother killed and dismembered, a single father pleads for his life before being robbed and shot in the head and other senseless online dating mishaps. Online dating comes with risks and red flags that should be not ignored. Sure it's ok to meet new friends or lovers but remember to practice safety first this Valentine's Day –or any other day when dating online.
Keep your online dating profile simple
It can be tempting to reveal your real name, location or even hobbies. But doing so could make you an easy target. Instead of using your government appointed name, opt for a fun online name that describes you for example if you are nurse that loves to cook your name could be Top Chef Nurse. Stay away from using your location in your name or throughout your profile, especially your city or neighborhood. Listing hobbies and interests are okay but be sure not to announce on your profile the exact location that you roller derby, play tennis, go for walks, shoot archery, mud wrestle or whatever your 'go to' thing is! Do not post photos of your children on online dating profiles. Keep in mind that less is more on your profile.
Dating locally
Of course you want to find a mate that is nearby whether for snuggling up together on Sunday afternoons with a hot cocoa and a great Netflix movie, or for ease of itching that late night 2 am scratch. Many dating apps use geo-locating to connect local lovebirds with one another. While these features are extremely popular, they should be used with extreme caution in order to keep users safe. Even when you are not active on the dating site if geo-locating abilities are enabled users can see how close you are to them, or even your home or work address. To avoid putting your safety at risk deactivate geo-locating or other location tracking settings in the features of your smartphone.
Know what to look for
Sadly, not everyone dating online is seeking love. Some are looking for their next 'dating prey' to take advantage of. Avoid potentially being sucked into an online dating scam be knowing what to look for:
● Always finds excuses not to meet in person or video chat
● Ask for financial assistance
● Unexpected emotional outbursts
These are all signs that you may have trouble on your hands. If you notice any of the above red flags, keep your distance from the potential scammer.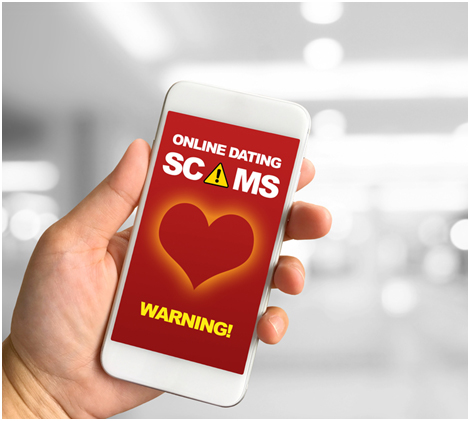 By 4 Girls 1 Boy
No finance in online romance!
Let's face it most people that are looking for love would prefer to date someone with financial stability but the conversation should never primarily financial. The FBI warns that cyber criminals turn to lonely and vulnerable online dating users to obtain fast cash through a variety of scams. Report a user to the site immediately if someone asks you for a money or wire transfer. Then block that user from being able to contact or interact with you as well. Personal financial data that should never be shared online:
● Bank account numbers
● Bank card numbers
● Credit card numbers
● Driver's license number
● Social security card number
● Tax identification number
● Employment identification number
By Andy Dean Photography
Safety tips for your first online date face-to-face meet up

So you have narrowed down your online dating list to one or perhaps two (not judging if there are more!). Although they may have successfully passed the safety measures behind a computer screen, it vital not to let your guard down when you the two of you decide to meet in person. Keep the following tips in mind:
● Meet in a safe public place (never meet at your home for the first meeting).
● Forward your date's full name, phone number, home address (if known) and address of meeting location.
● Know how to use your smartphone features, send photos of your date to a friend or family member, text a license plate number or change in location.
● Consider going on a double or a group date.
● Be prepared to defend yourself: enroll in a self-defense or martial arts class, carry mace, pepper spray, a small pocket knife or a pistol (if you dare).
Use this guide to avoid potential risk and to get the most out of your web based dating experience. Keep in mind that regardless of the possibility of being friendly with a number of membership users, they are still outsiders or strangers. In the event that you choose to meet with somebody face to face, at the minimum ensure that your bestie and a relative knows where you will be.
Have a digitally safe Valentine's Day!
Naomi Shaw
Bio of Naomi Shaw:

Naomi Shaw is a full-time freelance writer who balances motherhood and entrepreneurship. Living in Southern California with her husband and three children, Naomi writes on all topics with a family and health. She transitioned from stay-at-home mom to freelance journalist to share her lifestyle passion with the world.
Follow Naomi Shaw on these social platforms:
Twitter: @naomijshaw
Google Plus: https://plus.google.com/u/0/102994549913620000747/posts
Website: naomijshaw.weebly.com
LA-Story loves working with Naomi Shaw!
She has put together a very useful checklist of things to do and not to do when you are dating online- or in real life. We want you to be safe!!
Thanks to Naomi Shaw for a great and useful piece!
Stevie Wilson,
LA-Story.com
_________________________________________________________________________________________________________________
DEALS and STEALS(Affiliate Links)
I am required to tell you that I am an "affiliate" with these brands. I curate deals that offer bonuses, bargains and great products –and some are very specifically for this site to feature to YOU!If you purchase via my link, I make a very small percentage for that purchase. I pick the best products, vendors and deals I can find!
Subscribe to RSS headline updates from:
Powered by FeedBurner
If you are going to feature content from LA-Story.com including images, podcasts or videos including the accompanying text, please respect copyright provisions. We require a notation of content origination (meaning credit tag), a linkback to the specific page & please email the link to stevie@la-story.com before the piece goes live. LA-Story.com, LA-Story Recessionista, Celebrity Stylescope, Celebrity Style Slam Trademark/Copyright 2018