XCVI Contemporary Fashion with a Distinct Edge– and I WON Some!
Noodling around Facebook is something I often do. It's fun and I like checking up on brand pages– new brands and established ones — just to see what's new. I hit XCVI just to see what was new. I had heard about this brand a long time ago as they were just launching the brand. I liked it then and liked their evolution over the years and how much they had changed and gotten sharper with their designs. I remember when I hit their page there was a contest going on. I entered– just one of the many entries on the FB page.
Little did I realize that I would WIN something from that contest!!
Wow– shock and awe– when I got the email. I don't usually win anything because I disqualify myself– particularly if I have been writing about the brand within the last year. It never occurred to me that I would win something and so the surprise was that email and that I knew some of the people behind the line who even remembered me!!
Here's the cool stuff that I won.
The XCVI Black Label Demi Vest:
Gold studs keep things interesting on this clean white vest by XCVI Black Label.
•White. •Deep V neckline with gold studs and cutout trim.
•Twill tape ties in front. •Two front pockets. •Hits at hips. •Ramie. •Machine wash.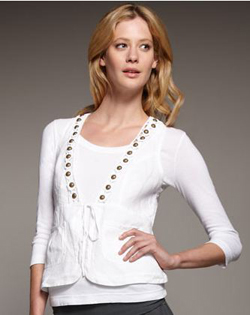 Find it at Neiman Marcus!
The other item I got was a short side zip white crochet lace dress that's very similar to this dress from Bloomingdales but more body conscious and with a side zipper and sleeveless. Incredibly interesting– and a girl could get a lot of attention wearing this number. Once I get me into the dress and a camera, I will shoot a photo. The dress I got is called the "Daredevil dress" — sort of apropos I think. (she winks while giving the dress a sideways glance)

This is the "Midi Dress" and as you can see it's not short, but a more tea-length dress and perfect for summer evenings and events.
Given that I am rather short, I like mine a whoooooooooole lot better because I don't have to hem it and it fits amazingly well.
Thankyou to XCVI for making my quarter or almost half year a wonderous advenure. (It's definitely has been more than an adventure!! )
Also another part of the contest prize was an donation to my charity of choice. XCVI donated $1050 to AmeriCares!! I love it when brands give back to the community and Americares is a great charity I personally support.
Thank you to XCVI for all the great prizes!!
Here's where you can find out more about the line!
www.xcvi.com
www.facebook.com/xcvifashion
twitter.com/XCVI
Do shop the line. It's from uber casual to boho chic elegant– it's my kind of line!
Stevie Wilson,
LA-Story.com
Korres blush for $10 each. Choose one of four different shades. A $24 Value. No code needed.
Get a free 20ml Fresh Soy Face Cleanser ($6 value!) with any $40 Fresh purchase at Beauty.com! Offer ends 07.31.2011 or while supplies last.
Designer Brands At Exclusive Prices – Save Up To 70% Off Retail! Invitation Code: SPRING2011
Subscribe to RSS headline updates from:
Powered by FeedBurner
If you want to feature content from LA-Story.com, please remember to linkback to the specific page & please email the link to stevie@la-story.com
LA-Story.com, LA-Story Recessionista, Celebrity Stylescope, Celebrity Style Slam Trademark/Copyright: KBP Inc. 2007-11