Celebrity makeup artist Vera Steimberg used Votre Vu products to create presenter Zoë Saldana's red carpet look for the 2017 Golden Globe Awards
Love the natural yet glow-y look of Zoe Saldana at the Golden Globes? I think she looks fabulous! Get her look courtesy of Celebrity Makeup Artist Vera Steimberg's tips and beauty breakdown!
INSPIRATION
"Zoë is wearing a Gucci gown in two shades of pink so we wanted makeup that was glowy but clean, to complement the soft colors of the dress."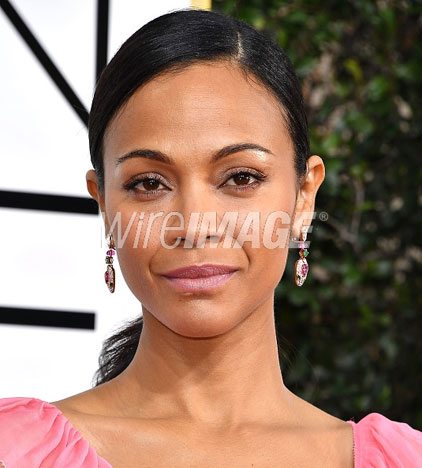 COMPLEXION – I used Laura Mercier Primer in Radiance to give her skin a glowy undertone, then applied a mix of two foundations, one from Laura Mercier and the other from Makeup Forever. Together they match her complexion perfectly. I finished by sweeping Guerlain Terracotta Bronzer all over her face to enhance her skin's radiance but keep it looking clean.
EYES – On her lids, I used a mix of the neutral brown and pinky shades in the Votre Vu Palette Play Quad in Nude, then I traced her upper and lower lash-lines with Votre Vu Le Joli Crayon in Chocolat.
On her top lashes, I smudged the eyeliner slightly to create a smoky effect.
I finger-tapped Charlotte Tilbury Eyes to Mesmerize in Bette, a coppery cream, on just the center of her lids, added a few individual lashes her eyes' outer corners, and swept on two coats of Votre Vu Eiffel Power Mascara in Black.
LIPS
I traced her lips with Votre Vu Drawmatic Lip Liner in Naked, then colored them in with Votre Vu Champs-éLIPsée Lip Crayon in Spark. I finished by tapping Votre Vu Lip Lustre in Demure to just the center of her bottom lip.
Votre Vu products are available at votrevu.com
Zoe Saladana's look is fresh, natural with a glow. I love the look. It sounds super-easy to achieve (other than foundation blending) ! Find almost all of it via Votre Vu!!
Stevie Wilson,
LA-Story.com
__________________________________________________________________________________________________________
DEALS and STEALS(Affiliate Links)
I am required to tell you that I am an "affiliate" with these brands. I curate deals that offer bonuses, bargains and great products –and some are very specifically for this site to feature to YOU!If you purchase via my link, I make a very small percentage for that purchase. I pick the best products, vendors and deals I can find!
Subscribe to RSS headline updates from:
Powered by FeedBurner
If you are going to feature content from LA-Story.com including images, podcasts or videos including the accompanying text, please respect copyright provisions. We require a notation of content origination (meaning credit tag), a linkback to the specific page & please email the link to stevie@la-story.com before the piece goes live. LA-Story.com, LA-Story Recessionista, Celebrity Stylescope, Celebrity Style Slam Trademark/Copyri