Finally, great  Los Angeles is getting decent weather for the most part.   While it's currently "spring", we have had a lot of rain since January and when it's not raining, it's been pretty chilly!   While I am skeptical that we are truly heading into spring and the lovely weather Californians typically get,  it's time to start having lunch outdoors and going out to brunch on the weekends.  That's often the best time to meet up with friends and/or family to catch up with the news as well as relax with a great meal at Granville West Hollywood. 
 Whether you're coming straight from Sunday morning yoga, recovering from a long night out, or having a leisurely morning with a big group of friends, Granville invites you to Come as You Are for brunch every Saturday and Sunday from opening until 2 pm.
Below are some wonderful dishes that are exactly what your weekend mood needs, whether you enjoy them on the patio or in the sun-filled restaurant:
Hotcakes, toast, traditional eggs + potatoes + bacon,  French toast!
Kick your weekend off right with the Village Breakfast. With two eggs (scrambled/sunny/over), potatoes, whole wheat toast and either chicken, pure cane bacon or linguisa sausage, you'll have a taste of everything you love.
Indulge in the fresh and flavorful Chilaquiles, made with crispy tortilla, ancho chipotle jackfruit, roasted pepitas, avocado cilantro sauce, poblanos, mushrooms, red bells, jack cheese (v), green & red onion, and lime vinaigrette.
Pork Belly with greens and fried egg
Share the love with shareables for the table such as the Smoked Salmon Spread & Rye Crisps or the Heavenly Hotcakes.
El Gaucho Salad.
Treat yourself to the Pumpkin Chai Pancakes, with candied pecans and brulee'd orange, or the Village French Toast made with brioche, almond & orange zest, pure maple syrup, and powdered sugar prove that batter is always better.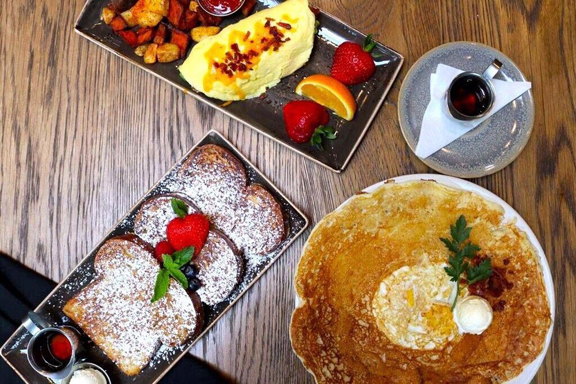 And it's not a true brunch experience without Granville's handcrafted cocktails, including Village Mimosas for the table or the Wake N' Bacon, a brunch cocktail made with bulleit rye, chocolate stout maples syrup, lemon juice, egg whites, garnished with a crispy strip of pure cane bacon.
Definitely worth making a date to meet up with friends and/or family at Granville West Hollywood! Other locations include: Burbank, Pasadena and Studio City.
Stevie Wilson,
LA-Story.com
________________________DEALS and STEALS(Affiliate Links)
I curate deals that offer bonuses, bargains, and great products –and some are very specifically for this site to feature to my audience because I want my audience to get amazing products from great brands!
Disclosure: some of the links on this post might have affiliate links! It costs you nothing. If you buy something, the brand pays me a small percentage.
If you purchase via my link, I make a very small percentage for that purchase. It does not add any additional cost to the product. The price you see is the retail price (depending on store or vendor) .
VIGOSS Faux Shearling Moto Jacket (It's a Steal because it's on SALE!)
From Nordstrom.com
Was $79, now $47.40!!
Soft on the outside, plush and snowy white on the inside, this moto-style jacket is sewn from faux shearling that provides cozy, lightweight warmth.
Rearview:

Here's a slightly longer Faux Shearling jacket.  This is also from Nordstrom.com and on sale!

It's love at first sight (and feel) with this cozy-chic car coat of faux shearling that can be reversed from the velvety side to the plush side.
Original price : $128.00, Sale price: 85.76!!

Subscribe to RSS headline updates from:
Powered by FeedBurner
If you are going to feature content from LA-Story.com including images, podcasts or videos including the accompanying text, please respect copyright provisions. We require a notation of content origination (meaning credit tag), a linkback to the specific page & please email the link to stevie@la-story.com before the piece goes live. LA-Story.com, LA-Story Recessionista, Celebrity Stylescope, Celebrity Style Slam Trademark/Copyright 2007-2020.