Don't Worry If You Missed Nat'l Mac & Cheese Day: STACKED Has You Covered! #Ad
I don't know if you realized that National Mac and Cheese Day was July 15. It's one of those "holidays" that celebrate a food or beverage. I found out courtesy of STACKED restaurants here in So. California. Stacked is noted for their restaurants customization: you can customize any sandwich, salad, pizza, burger, macaroni & cheese- even beverage or dessert. Whatever customization they can provide for your food item, they will make it up. Stacked emailed me and told me about the National Macaroni and Cheese Day and asked me if I wanted to pop into one of their restaurants to try their Mac & Cheese dishes- on them! (What does that sentence say? It says they asked me to try out the macaroni and cheese for free provided I shared it socially. I liked it so much, I decided to blog about it. ) Of course, I couldn't say no! I was asked to invite friends and/or family and I wound up with a family member.
Point of information: There are new items on the menu that we got to try in order to get some taste/texture feedback.
I showed up before the dinner crowd (and it can become quite crowded fast at these restaurants). I took my partner with me because he said he might try some mac and cheese. We were seated at a large table and there's a good reason why: I got to order multiple different versions of macaroni and cheese that Stacked features on their menu. YUMMY!!
Here are their various mac and cheese items– and each one can be customized to your taste. The list below is from their website. I am highlighting the ones I ordered:

LOBSTER MAC 'N' CHEESE
Rich and creamy, with lobster, Roma tomato, fresh garlic and basil.
CHIPOTLE STACKED MAC
We start with our STACKED Mac and kick it up with the spicy, smokey
flavor of chipotle. Then we add pork andouille, jalapeno bacon, Roma
tomatoes and red onion.
EGG ON YOUR FACE
Pork Andouille and pepper jack cheese baked with roasted red and green
peppers, French fries, green onions, topped with an over-medium egg, and
homemade potato chips.
BACON CHEESEBURGER, NO BUN!
Ground angus beef, Applewood smoked bacon, American cheese, onions, all
baked to a cheesy, creamy perfection.
CAJUN SHRIMP
Cajun-style shrimp, pepper jack cheese, roasted red peppers, and chopped
green onions.
ROSEMARY'S CHICKEN
Tender grilled chicken with roasted garlic and a hint of fresh rosemary.
CHICKEN PESTO
Traditional Mac 'n' Cheese with the fresh, rich flavor of basil pesto. Then we
add grilled chicken breast, fresh mushrooms, diced Roma tomato, and fresh
roasted garlic.
There were also 2 more flavors that they were testing out:
Short Rib: macaroni and cheese with short rib bites with barbecue sauce.
Sausage and Sundried Tomato : sliced Italian sausage with sundried tomatoes and a pesto sauce
We had a version of this one that included sundried tomatoes and the sausage but no pesto sauce since it hadn't arrived yet.
We also added bacon to the Rosemary's Chicken mac and cheese too.
Here are the images of what we ordered: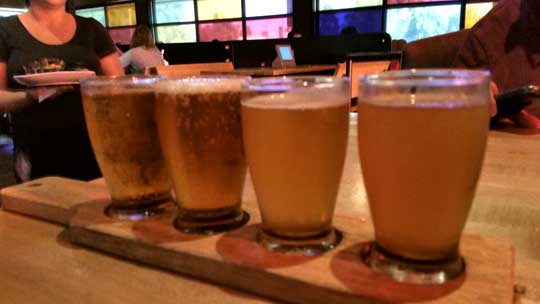 This is the rack of beers that my partner got. It's a tasting flight. He got to choose the beers –which are dependent on location.
Cajun Shrimp Mac and Cheese.


This is our favorite. SO yummy with lots of flavor and lots of shrimp. It's a must-try in my book!
Sausage and Sundried Tomato


Sausage and Sundried Tomato is a great – and flavorful dish. I will go back and try it after the pesto sauce is in-house. This is a new recipe added to the menu so we were happy to be guinea pigs to try it. (Thumbs up!)
Rosemary's Chicken with Bacon Added


I love this dish! It's super tasty with the subtle rosemary flavors. The addition of bacon gives it a slightly smoky flavor!
Short Rib Mac and Cheese– new addition to the menu

This is a new menu item and will be tweaked a bit more before it's finalized. This featured chunks of short ribs and some of the chunks weren't evenly covered in the barbecue sauce. Despite that, it was meaty and a good match. Expect to see it with more shredded texture of the short ribs with a great barbecue sauce/flavor.
Lobster Mac and Cheese


This was the item that jumped out at me first to order. Who doesn't like lobster? I like this dish but the flavor needs a bit more bite. Maybe some bacon or some chopped green onions would be a good addition. The lobster does tend to be hidden in the cheese sauce– so that what you think is macaroni could actually be lobster! Next time, I will customize this a bit!
Disclosure:
This was a blogger event and we were given our meals free for attending and posting on Twitter, IG, Facebook and our blogs!
Want to get more scoop on STACKED?
Check out these social platforms:
Website: http://www.stacked.com/
Facebook: https://www.facebook.com/stackedrestaurants
Twitter: https://twitter.com/foodwellbuilt
Instagram: https://instagram.com/foodwellbuilt/
Pinterest: https://www.pinterest.com/foodwellbuilt/
Google+ : https://plus.google.com/u/0/117187847095604582855/posts
Stevie Wilson,
LA-Story.com
____________________________________________________________________________________________________________________________________________________________________________________________________________
<span style="color: #993366;">DEALS and STEALS</span>(Affiliate Links)
I am required to tell you that I am an "affiliate" with these brands. I curate deals that offer bonuses, bargains and great products –and some are very specifically for this site to feature to YOU!If you purchase via my link, I make a very small percentage for that purchase. I pick the best products, vendors and deals I can find!
<a href="http://click.linksynergy.com/fs-bin/click?id=EsXe6pZTy8Q&offerid=256670.10001720&subid=0&type=4″><img src="http://ad.linksynergy.com/fs-bin/show?id=EsXe6pZTy8Q&bids=256670.10001720&subid=0&type=4&gridnum=13″ alt="Sephora.com, Inc." border="0″ />
</a><a href="http://click.linksynergy.com/fs-bin/click?id=EsXe6pZTy8Q&offerid=365898.3&type=4&subid=0″><img src="http://usadmin.memebox.com/media/affiliateplus/banner/affiliate_bringingyouthehottestkbeauty_728x90.png" alt="Memebox" border="0″ /></a><a href="http://click.linksynergy.com/fs-bin/click?id=EsXe6pZTy8Q&offerid=256670.10001720&subid=0&type=4″><img src="http://ad.linksynergy.com/fs-bin/show?id=EsXe6pZTy8Q&bids=365898.3&type=4&subid=0″ alt="" width="1″ height="1″ border="0″ />
</a><a href="http://click.linksynergy.com/link?id=EsXe6pZTy8Q&offerid=283263.8432582001348&type=2&murl=http%3A%2F%2Fwww.solesociety.com%2Freymina-olive.html"><img src="http://images.solesociety.com/media/catalog/product/cache/1/thumbnail/452x/9df78eab33525d08d6e5fb8d27136e95/r/e/reymina_olive_324.jpg" alt="" border="0″ /></a><a href="http://click.linksynergy.com/fs-bin/click?id=EsXe6pZTy8Q&offerid=256670.10001720&subid=0&type=4″><img src="http://ad.linksynergy.com/fs-bin/show?id=EsXe6pZTy8Q&bids=283263.8432582001348&type=2&subid=0″ alt="" width="1″ height="1″ border="0″ />
</a><a href="http://click.linksynergy.com/fs-bin/click?id=EsXe6pZTy8Q&offerid=419585.91&subid=0&type=4″><img src="http://ad.linksynergy.com/fs-bin/show?id=EsXe6pZTy8Q&bids=419585.91&subid=0&type=4&gridnum=0″ alt="Introducing dv at Target. Simple. Modern. Shoes & Accessories, available 2/23″ border="0″ /></a><a href="http://click.linksynergy.com/fs-bin/click?id=EsXe6pZTy8Q&offerid=256670.10001720&subid=0&type=4″>
</a><a href="http://click.linksynergy.com/fs-bin/click?id=EsXe6pZTy8Q&offerid=407063.46&subid=0&type=4″><img src="http://ad.linksynergy.com/fs-bin/show?id=EsXe6pZTy8Q&bids=407063.46&subid=0&type=4&gridnum=1″ alt="Create and Craft" border="0″ /> </a><a href="http://click.linksynergy.com/fs-bin/click?id=EsXe6pZTy8Q&offerid=400710.87&subid=0&type=4″><img src="http://ad.linksynergy.com/fs-bin/show?id=EsXe6pZTy8Q&bids=400710.87&subid=0&type=4&gridnum=7″ alt="First stop to flawless begins with TEMPTU – Shop now and receive a free base smooth & matte primer with your purchase of $85 or more." border="0″ /></a><a href="http://click.linksynergy.com/fs-bin/click?id=EsXe6pZTy8Q&offerid=407063.46&subid=0&type=4″>
</a><a href="http://click.linksynergy.com/link?id=EsXe6pZTy8Q&offerid=419585.2046206735&type=2&murl=http%3A%2F%2Fwww.target.com%2Fp%2Fseagate-5tb-expansion-desktop-external-hard-drive-black-steg5000100%2F-%2FA-17316276″><img src="http://scene7.targetimg1.com/is/image/Target/17316276?wid=1000&hei=1000″ alt="" border="0″ /></a><a href="http://click.linksynergy.com/fs-bin/click?id=EsXe6pZTy8Q&offerid=407063.46&subid=0&type=4″><img src="http://ad.linksynergy.com/fs-bin/show?id=EsXe6pZTy8Q&bids=419585.2046206735&type=2&subid=0″ alt="" width="1″ height="1″ border="0″ />
</a><a href="http://click.linksynergy.com/link?id=EsXe6pZTy8Q&offerid=298790.408940&type=2&murl=http%3A%2F%2Fwww.beauty.com%2Fproducts%2Fprod.asp%3Fpid%3D408940%26catid%3D308173″><img src="http://s7d2.scene7.com/is/image/Drugstore/408940?wid=300&hei=300&op_sharpen=1″ alt="" border="0″ /></a><a href="http://click.linksynergy.com/fs-bin/click?id=EsXe6pZTy8Q&offerid=407063.46&subid=0&type=4″><img src="http://ad.linksynergy.com/fs-bin/show?id=EsXe6pZTy8Q&bids=298790.408940&type=2&subid=0″ alt="" width="1″ height="1″ border="0″ />
</a><a href="http://click.linksynergy.com/fs-bin/click?id=EsXe6pZTy8Q&offerid=256670.10003112&type=3&subid=0″>Receive a FREE MILK MAKEUP Lip Color Duo deluxe sample with any $25 purchase. Use code: MILKIT</a><a href="http://click.linksynergy.com/fs-bin/click?id=EsXe6pZTy8Q&offerid=407063.46&subid=0&type=4″><img src="http://ad.linksynergy.com/fs-bin/show?id=EsXe6pZTy8Q&bids=256670.10003112&type=3&subid=0″ alt="" width="1″ height="1″ border="0″ />
</a><a href="http://click.linksynergy.com/fs-bin/click?id=EsXe6pZTy8Q&offerid=298790.10000684&type=3&subid=0″>Latest Trends!</a><a href="http://click.linksynergy.com/fs-bin/click?id=EsXe6pZTy8Q&offerid=407063.46&subid=0&type=4″><img src="http://ad.linksynergy.com/fs-bin/show?id=EsXe6pZTy8Q&bids=298790.10000684&type=3&subid=0″ alt="" width="1″ height="1″ border="0″ /></a>
Subscribe to RSS headline updates from:
Powered by FeedBurner
If you are going to feature content from LA-Story.com including images, podcasts or videos including the accompanying text, please respect copyright provisions. We require a notation of content origination (meaning credit tag), a linkback to the specific page & please email the link to stevie@la-story.com before the piece goes live.
LA-Story.com, LA-Story Recessionista, Celebrity Stylescope, Celebrity Style Slam Trademark/Copyright KBP Inc./TNBT Inc 2007-18