I was recently invited along with several other bloggers for a late AM Saturday brunch at Salt Creek Grill in El Segundo.
Located in the Plaza El Segundo, this restaurant is known for 'contemporary meets comfort' American cuisine. Set back into a lovely location with a pond and a new outdoor patio, it's a great location that is surrounded by trees and has some lovely landscaping making you feel like you have walked into someone's home, not just a restaurant.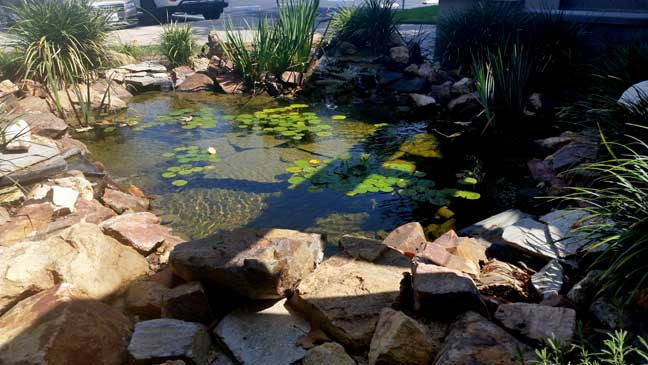 Pond that splits the area between the patio and the entry area
This blogger outreach event was to introduce us to Salt Creek Grill's new weekend brunch! It's available on Saturdays and Sundays and a favorite place to have brunch is outside on the new patio. This patio area is stunning and really done nicely. (I wish my patio looked that good!)

Cocktail cart featuring glasses of the amazing sparkling wine cocktails

Bloggers with some amazing pre-brunch cocktails!
The patio looking toward the pond. The trees and umbrellas keep the patio cool There are a variety of table sizes and configurations available too!

Bloggers!

The east view of the patio (towards the restaurant). General Manager Christy Grenert is there talking to all of us about the evolution of their brunch menu, the creation of the very charming patio and more about their El Segundo branch.

Another view of Salt Creek Grill Manager Christy Grenert, Salt Creek Grill staff and Melrose PR!

Table for four-my table!
These next photos show a display table of the dishes that are featured on their brunch menu. The food looked oh-so-yummy and the innovative menu was quite apparent!


These beignets were incredible. About 3 bites max, but worth every luscious bite, these beignets are a must to order every time you come for brunch. (Maybe order some to take home?)

Snapshot of one end of the display table. The display was very precise and quite photogenic!

This is about half of the table. Clockwise from middle top: Breakfast Pizza (with eggs on top).   Far right pedestal is Huevos Rancheros! French toast with fresh fruit next and Fried Chicken and Belgian waffles are  in the center of the display table.

A more detailed shot of the breakfast pizza

Detail of the Huevos Rancheros! This was an amazing and very tasty dish!

Close-up photos of the Breakfast Pizza, the Chicken and Waffles and the French Toast!  This half of the table looks (and tastes) incredible!
Wait!! There's more to this table!


This is the other half of the table! At the top, Quiche with Crab and Asparagus. ( It was  amazing, so light!),  Next on the right side pedestal: Monte Cristo sandwiches. These were so  very light and flaky  and totally delish1 On the lower part of the table is a tray of Beignets.  and the far left is a  fruit salad.

Detail of the quiche.

Close-up of the quiche! It was really delicious.
We also had a small sampler of the Huevos Rancheros, and so many other small plates so we could try many dishes.


 General Manager, Christy Grenert is holding a Salt Creek Grill signature Brunch Bloody Mary!
Not to forget the amazing house-made, CRAFT Bloody Marys,  every liquid ingredient was either house-made or infused by Salt Creek Grill- El Segundo. This is one spicy cocktail but it's made for sipping!
Christy Grenert is driving force behind the creation of this unique brunch menu along with an extensive remodel of the patio. She clearly has her fingers on the pulse of what the surrounding South Bay communities want to eat and drink along while creating spaces that are inviting and convert from brunch to special events quite easily.

For those seeking to have coffee, they have great coffee, tea and other non-alcoholic options and they serve Stumptown Cold Brew coffee along with some amazing French Press coffee!!
This brunch menu  is a phenomenal. This menu provides choices that will appeal to most and some are suitable for vegetarians. The biggest problem you will have at brunch is deciding what to eat!
Whether you are looking for a casual breakfast for two or a more party-like atmosphere for a larger crowd, make reservations for the Salt Creek Grill weekend brunch. You will not be disappointed. General Manager Christy Grenert has put a lot of effort in giving this gorgeous patio area a luxury garden atmosphere. Salt Creek Grill's brunch menu offers a variety of tastes that will not disappoint.
DO visit this Salt Creek Grill in El Segundo. It's meant to be experienced over and over again.
For more information, here is their website: http://www.saltcreekgrille.com/el-segundo
Stay in the loop on events and special food presentations at Salt Creek Grill- El Segundo
on these social platforms:
Facebook: https://www.facebook.com/SaltCreekGrilleElSegundo/
Twitter:https://twitter.com/scgelsegundo/
Pinterest:https://www.pinterest.com/saltcreekgrille/
Instagram: https://www.instagram.com/saltcreekgrille_elsegundo/
YELP:https://www.yelp.com/biz/salt-creek-grille-el-segundo
Tripadvisor: https://www.tripadvisor.com/Restaurant_Review-g32341-d680103-Reviews-Salt_Creek_Grille-El_Segundo_California.html
Hours
Bar – Daily 11am
Lunch – Daily 11am
Dinner – Daily 4pm
Happy Hour – Daily 4pm – 6:30pm
Weekend Brunch – Saturday & Sunday 10:30am – 2:30pm
Salt Creek Grille – Plaza El Segundo (Across from Whole Foods)
2015 E. Park Place
El Segundo, CA 90245
(310) 335-9288
Stevie Wilson,
LA-Story.com
____________________________________________________________________________________________________________________________________________________________
DEALS and STEALS(Affiliate Links)
I am required to tell you that I am an "affiliate" with these brands. I curate deals that offer bonuses, bargains and great products –and some are very specifically for this site to feature to YOU!If you purchase via my link, I make a very small percentage for that purchase. I pick the best products, vendors and deals I can find!
Subscribe to RSS headline updates from:
Powered by FeedBurner
If you are going to feature content from LA-Story.com including images, podcasts or videos including the accompanying text, please respect copyright provisions. We require a notation of content origination (meaning credit tag), a linkback to the specific page & please email the link to stevie@la-story.com before the piece goes live. LA-Story.com, LA-Story Recessionista, Celebrity Stylescope, Celebrity Style Slam Trademark/Copyright KBP Inc./TNBT Inc 2007-18